Description
Traditional Tapered Combo Cups | Copper | Satin Finish
1 1/8" RNT Red Balls Included
We've turned our Traditional Tapered Cups into a Combo Set! Rebuilt from the ground up to the same dimensions as our standard Traditional Tapered Cups, the new Combo Cup set is ready to add amazing new magic to your cups and balls routine like only a combo set can. Each cup weighs the same and each cup is created identical to the other, yet one of the cups holds the powerful secret of a Combo Cup set.
The Traditional Tapered cup design is among the most classic designs of cups for cups and balls performers. One really cannot consider themselves a collector unless they have at least one set of tapered cups. The tapered cups design is the style of cups you see street performers of the 18th century performing within paintings or drawings from that period. They may have used tin or wood cups in those days, and they certainly didn't have a cup of the caliber of our Traditional Tapered cups. Quaint illustrations of cups and balls sleights are in Diderot's Encyclopedia, ca 1750 - 1775. These illustrations include tapered cups.

There have been vast improvements added to our 21st century Traditional Tapered Cups when compared directly to the designs seen in vintage 18th century illustrations. Cups in those days had seams. They were lighter weight. They most likely would wobble when stacked, and most notably, the skirt on the vintage cups was much smaller. Our modern cups are stronger, heavier, stack evenly, are spun from one piece of metal, and have larger skirts which allow for greater attic space in the cups when they are nested.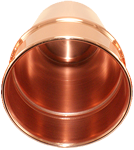 Brushed Satin Interior
Craftsmanship
Each cup is hand spun from new Rings-N-Things tooling in .050 copper with a brushed satin exterior finish. The addition of the gimmick insert in each cup adds weight and balance to each cup so they are equivalent in weight to our standard Traditional Tapered Cups which are spun from heavier gauge metal. Each cup averages 1 ounce heavier than the standard cups. The interior is a brushed satin finish.
Made in USA
Included
2 Traditional Tapered Combo Cups - ungimmicked

1 Traditional Tapered Combo Cup - gimmicked

1 x 1 1/8" RNT Red Magnetic Ball

4 x 1 1/8" RNT Red Balls

Deluxe Bag
Specifications
Specifications
Weight per ea:
9 oz (255g)
Weight per set:
1 lb 11 oz (765g)
Manufacturer
Manufacturer:
Rings-N-Things
Reviews