Description
Don Alan Mini Chop Cup | Copper | Mirror Finish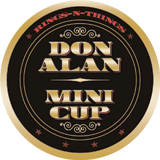 The Don Alan Mini Chop Cup | Copper | Mirror Finish is the best little walk-around chop cup ever produced. The cup has a 2 inch mouth requires little table space and can be used on your palm, a spectator's palm or a spot light sized mat. The Don Alan Mini Size cup design incorporates a drastic radius in the rounded top that amplifies the size of the final load ball, creating an illusion that the ball is actually bigger than the cup when the load ball is rested on the cup's saddle.
Included is a 1 5/8" RNT Red Load Ball. Since the cup was originally designed to hold a golf ball for a load, it can be kind of difficult to find a crocheted load ball that fits well into this cup. We produce these balls specifically for this cups and include one with each purchase. Other colors are available, but only RNT Red is included.
We feel it is important to mention that different size balls can be used with this cup depending upon your preference. 7/8" diameter balls can be used, and even a 1" ball can be used, which gives the ball greater visibility, but there is a strong argument that smaller balls should be used to increase the contrast and surprise of the final load. We prefer to use the 3/4" balls, you may prefer otherwise.
Craftsmanship
Each cup is hand spun from the original RNT II Don Alan Chop Cup tooling in .050 copper and polished to a mirror finish exterior and a brushed satin interior.
Includes
Don Alan Mini Chop Cup

Deluxe carrying bag
Don Alan Mini Chop Cup | Copper | Mirror Finish is made entirely in the USA.
Specifications
Specifications
Weight per ea:
3 oz (85g)
Manufacturer
Manufacturer:
Rings-N-Things
Reviews