Description
Traditional Tapered Cups | Copper | Satin Finish
Ideal for Renaissance Faire workers, the Traditional Tapered cups are among the most classic designs of cups for cups and balls performers requiring a historical period style. One really cannot consider themselves a collector unless they have at least one set of traditional tapered cups. The tapered cups design is the style of cups you see street performers of the 18th century performing with in paintings or drawings from that period. They may have used tin or wood cups in those days, but they certainly didn't have a cup of the caliber of our Traditional Tapered cups. Quaint illustrations of cups and balls sleights are in Diderot's Encyclopedia, ca 1750 - 1775. These illustrations include traditional tapered cups. One will notice however that there has been a vast improvement added to our 21st century Traditional Tapered cups over the designs seen in vintage 18th century illustrations. Most notably, the skirt is now much larger, which allows for greater attic space in the cups when they are nested.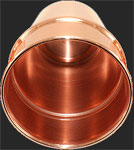 Brushed Satin Interior
Craftsmanship
Each cup is hand spun from the original RNT II tooling in .064 copper with a satin exterior finish. The interior is a brushed satin finish. A set of Ireland Chrome cups was used for the design foundation of these cups. We expanded the dimensions and corrected bead height. We went to great lengths to assure the mouths of the cups nested properly with the center bead of the cup to eliminate any rocking or tipping. Unlike other tapered cups, there is little to no rocking when the cups are stacked.

Included
3 Traditional Tapered Cups

4 x 1 1/8" RNT Red Balls

Deluxe Bag
Traditional Tapered Cups | Copper | Satin Finish made entirely in USA.
Specifications
Specifications
Weight per ea:
8 oz (227g)
Weight per set:
24 oz (680g)
Recommended Balls
All Purpose:
1 1/8 inch (28mm)
2 Balls Nested:
1 1/8 inch (28mm)
3 Balls Nested:
1 inch (25mm)
Load Ball:
2 5/8 inch (67mm)
Reviews