Description
Alter Ego Chop Cup | Aluminum | Mirror Finish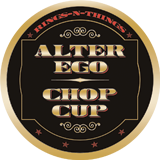 All Balls and Load Ball Included.
The The Alter Ego Chop Cup, trustworthy workhorse of strolling magicians, gives magicians the power of a chop cup routine any place, and any time. This cup is the size of a shot glass and small enough to carry in your pocket yet provides a powerful tool for a sleight of hand artist.
The Alter Ego Chop Cup design incorporates a straight wall with a flat bottom that presents an innocent look. The cup is often referred to as a "shot glass" by performers, and is ideal for performing close-up bar magic or magic in the hands of the spectators at cocktail parties.
Craftsmanship
Each cup is hand spun from the original RNT II Alter Ego tooling from .040 aluminum with a polished Mirror Finish exterior and a brushed satin finish interior. Its gaff is spun into the cup, not glued.
Included
Alter Ego Chop Cup

1x 5/8 inch RNT Red Ball

1x 5/8 inch RNT Red Magnetic Ball

1x 1 3/8 inch RNT Red Load Ball

Velvet Bag
Alter Ego Chop Cup | Aluminum | Mirror Finish made entirely in USA.
Specifications
Specifications
Weight per ea:
0.8 oz (22g)
Manufacturer
Manufacturer:
Rings-N-Things
Reviews