Paul Fox Vintage Specifications Released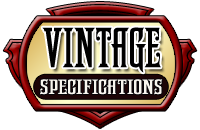 The Paul Fox VS Cups are exact reproductions of the Danny Dew Type 2 Paul Fox Cups. Their Vintage Specifications are taken directly from authentic Paul Fox Cups made by Danny Dew 50 years ago.
Thanks to the endeavor of Dr. Jonathan Schweid, Rings-N-Things is proud to offer these exact reproductions of this vintage Paul Fox Cup design. Jonathan owns several sets of collectable original Paul Fox Cups that were spun by Danny Dew, and wanted to use the cups, but didn't want to risk losing or damaging the original sets. Jonathan approached RNT about two years ago and said he wanted to recreate the legendary Danny Dew Type 2 Paul Fox Cups; not only that, but he wanted to make certain that the best features, cherry-picked from variations in Danny Dew Type 2 cups, were included in every new set. We put him in touch with our master craftsman who could create the tooling for him, reverse engineering the cup. Working from authentic original cups the required tooling was created, refined and tweaked repeatedly until the finished product met Jonathan's exacting standards.
Paul Fox Cups were among the first cup designs created exclusively for cups and balls performers that featured a rounded top. Since its conception and manufacture, many magicians have credited the Paul Fox Cup design as revolutionizing the world of Cups and Balls and many have contributed moves to the performance of cups and balls that can best be accomplished with a rounded top cup.
Unlike our Rings-N-Things Paul Fox Cups, the Paul Fox VS design is a slightly taller cup with a more gradual radius from the shoulder bead to the saddle, more like a Paul Fox Chick Cup, but not as large. This also makes the dimple in the saddle deeper. The original cup design was coined the Danny Dew "Type 2" because Danny changed the design after the first run he produced. Collections, like the Cups and Balls Museum, identified this variation and called it the Type 2. For functionality the Type 2 cups were preferred over the Type 1 cups.
Currently available in: