Paul Fox Combo Cups
Exclusively available at Rings-N-Things.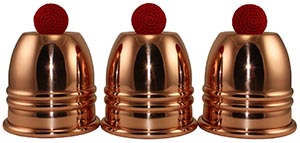 Now with a Chop Cup in the set!
Paul Fox Combo Cups have been on my "dream cups" list for years, and are now finally realized.
Not until I got into the Vintage Specifications of these cups was I able to fit what needs to be fitted into these cups AND maintain a 3 ball nest AND maintain the load capacity AND not change the outside dimensions of the cup.
Paul Fox Combo Cups include 5 balls: 4x red 1 inch (25mm) balls, 1x red 1 inch (25mm) magnetic ball. Only available in copper, either Polished or Satin Finish.
Available Paul Fox Combo Cups