Description
Don Alan Full Size Chop Cup | Brass | Mirror Finish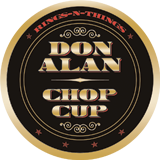 The Don Alan Full Size Chop Cup and RNT Red Balls.
The hallmark of our Jumbo Chop Cup selection: The Don Alan Full Size Chop Cup has a wide 3 3/8 inch mouth that swallows almost anything you can throw at it. Big enough for a baseball, the cup comfortably hold a lemon, an apple, an orange or any like-sized load of your choice. Tennis ball? No problem. In fact, if you produce a tennis ball out of this cup, you owe it to yourself to produce something even bigger! As chop cups go, the Don Alan Full Size Chop Cup gives you the largest load capacity of any commercially available cup.
The Don Alan Full Size cup design has no mouth bead, and no shoulder beads. It incorporates two dress lines around the deep-dish saddle and has a drastic radius in the rounded sidewall which amplifies the size of the final load ball, creating the illusion that the ball is actually bigger than the cup, when a maximum size load is produced and is rested on the cup's saddle. Of course, such a display is totally unnecessary after your audience has experienced the jumbo size loads that can fit into this cup.
The cup is so large that you shouldn't use any Chopped Balls that are smaller than 1 inch in diameter with it. Smaller balls just look disproportionate to the jumbo size of the cup. We recommend, and include 1 1/8 inch balls, but 1 3/8 inch balls will work just as well, if not better.
Craftsmanship
Each cup is hand spun from the original RNT2 Don Alan Full Size Chop Cup tooling from .050 brass and polished to a mirror finish exterior and a brushed satin interior.
Includes
Don Alan Full Size Chop Cup
Velvet Bag
Don Alan Full Size Chop Cup | Brass | Mirror Finish is made entirely in the USA.
Specifications
Specifications
Weight per ea:
10 oz (283g)
Manufacturer
Manufacturer:
Rings-N-Things
Reviews